Here's where YOU get a chance to tell us the juicy gossip YOU'VE heard about the guys... This is the ULTIMATE "He Said, She Said" page! WE WANT TO HEAR IT!!! I'll include some of the juicier stuff I hear about the guys. (No guarantee of the accuracy of what you read here, but I'll do my best...Hey, that's why they call it GOSSIP :oP Isn't it?)
10/9/02: O-TOWN Spotting
In NYC...
One of my sources (lol) was on line at a trendy NYC Nightclub (which shall remain nameless), when Trevor and Ashley walked up. Trevor was said to appear a bit unsure as to whether or not they were on the guest list (awwww... how cute). They arrived alone. Yes, alone. No girlfriends this evening. Once inside, my source tells me that Erik was already there when Trevor and Ashley arrived. Erik was with a female with dark hair-- it was hard to tell if they had came together or had met at the nightclub, but Erik spent most of the night walking back and forth through the club with her (sorry, girls). Trevor was also seen spending time with a blonde female that he met inside throughout the night. Ashley wasn't seen with anyone (I'm sure plenty of you are happy about that). Trevor and Ashley were down to earth (as usual) and Erik... Well, I wasn't there, so I won't comment (lol). I hope that brought you a little closer to the action (hahaha)... Stay tuned for the next episode... :o)
10/7/02: Could It Be...???
Rumor has it that Jacob and Janie will finally become husband and wife THIS WEEK!!! But you never can tell with these two :o) I've actually heard that they are already married! So, either way... Congratulations to the happy couple!!! You guys deserve only the best :o)
An O-TOWN WEDDING???:
Yep!!! It's TRUE... there IS an O-TOWN WEDDING in the near future! Congratulations to Jacob and Janie who finally shared the news that they plan to be married some time in October! Don't worry girls, Jacob does not plan on leaving O-Town anytime soon :o)
6/1/02: O-TOWN'S NEW CLOTHING LINE???
Rumor has it that some of the members of
O-TOWN are joining forces to create a clothing line... See for yourself:
(Katrillion) -- They can sing -- but can they sew? According to Women's Wear Daily, O-Town members Ashley Angel, Trevor Penick and Erik-Michael Estrada will launch their own clothing line, called Atira, this fall. Described as an eclectic mix of urban, surf, skate, and '70s styles for both guys and gals, the line includes baby tees, baseball shirts, shorts and leather jackets.

"I've always wanted to do this," noted Estrada. "I even had my own line of T-shirts that I used to sell in high school."

2/3/02: BUSTED!?!?!?...
Check out the LATEST SCOOP on the girl CLAIMING to be Erik-Michael's girlfriend... I just have ONE THING to say about THIS topic... SOMEONE'S been doing their RESEARCH!!! YOU GO GIRL! CLICK on this to see for yourself...
1/23/02: Erik-Michael's NEW GIRLFRIEND??? ...(LMAO)!!!
If you haven't already heard, there has been a BIG SCANDAL going on all over the internet about a girl named Allison who did an interview for a O-Town Fansite called O-Town For Dummies (btw, the interview has been removed from the site). In that interview, Allison claims that her and Erik-Michael have been going out since February of 2001 :o( Since that interview, there has been A LOT of drama going on in Yahoo! Clubs everywhere! And let me tell you...it hasn't been pretty (lol) O-Town fans from all over the country have been doing RESEARCH to uncover the TRUTH... because NOT ONLY is this girl claiming that she is Erik-Michael's g/f, she's also saying that she is in a group called "X-Press". On the "X-Press" website they claim to be scheduled to OPEN UP FOR O-TOWN in GERMANY from February 14-17! So, O-Town fans have checked with Actual Management (O-Town's Management Company) and they have CONFIRMED that
"X-press" IS NOT OPENING UP FOR O-TOWN in GERMANY!!! O-Town will have local German acts opening for them. Check out the "X-Press" Message Board to see just a glimpse of what's been going on...
You will notice that "X-press" denies the claims made by Actual Management...they are sticking to their story that they ARE going to be opening for O-Town. But don't worry O-TOWN'S FINEST has sources in Germany who be able to confirm this information either way. So, check back for the LATEST on this nasty little rumor...(LMAO!) You know I'LL keep you posted :o)
Since this info was posted on 1/23, it has been rumored that Erik-Michael has said, "I'm sad that I didn't get a kiss at midnight", referring to the MTV New Year's Eve party at which Allison was said to have been at. Rumor has it that Erik-Michael is SINGLE and that he was very upset to hear that all of this had been circulating on the internet. I cannot confirm or deny this information, remember this IS a RUMOR page! Take it for what it's worth! :o)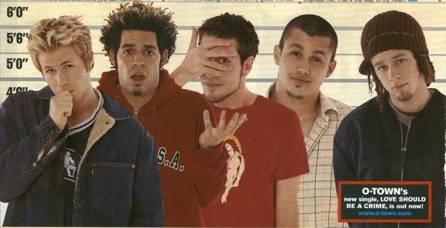 Did you hear that Jacob and Janie are going to tie the knot in October? That Dan's new songs have been inspired by his ex-girlfriend, Cindy? Have you heard any of the gossip about what's been going on behind the scenes on the O2 Preview Tour? Or that Shelli is traveling with Ashley on tour again? Shall I go on??? There is SO MUCH gossip going around! SHARE YOUR STORIES! I'll do my best to dispell the myths and give you the facts!
GIVE US THE DIRT!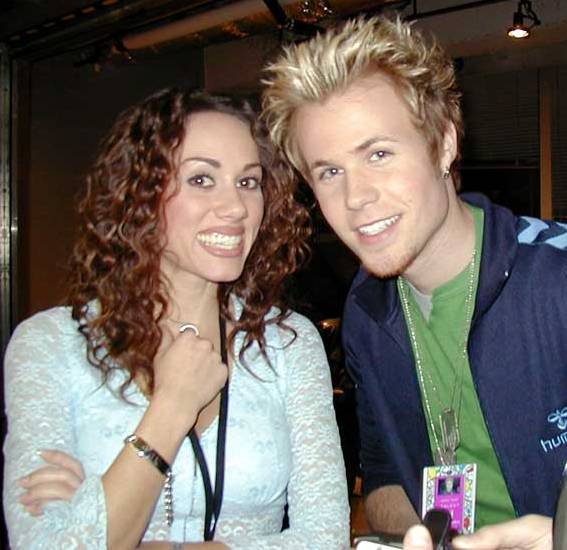 Which MEMBER of O-TOWN is a GROUPIE?!?!? (Read on...lol):
Trevor and Ashley meet Will Smith... From "New York" magazine Dec 24-31: (Intelligencer): "O-Town, the J Records boy band made famous on the Making of the Band television series, is used to being chased by awstruck fans. But it was O-Town's Trevor Penick doing the chasing recently-after his idol, Will Smith. While riding in a limo to a Planet Hollywood luncheon honoring New York city police officers, Penick heard that Smith was on his way out of the party. The driver raced through traffic, arriving just in time for Penick to meet Smith. Smith's assistant then invited Penick to Sony honcho Howard Stringer's VIP screening of Ali that night. Penick re-jiggered interviews he had scheduled in order to attend the screening but never asked where it was being held. After many frantic phone calls to Sony staff, Penick found out where it was (Sony Lincoln Square) and was able to get to the theater shortly before the film started. But he and fellow O-Towner Ashley Parker Angel were turned away because their names weren't on the list. Fortunately, as Penick and Angel were about to head back to their hotel, Smith's assistant saw them and pulled them into the theater as the lights were going down. We're happy to report that they had no problem getting into Stringer's after-party at Tavern on the Green."

*Thanks to: Destination O-Town*