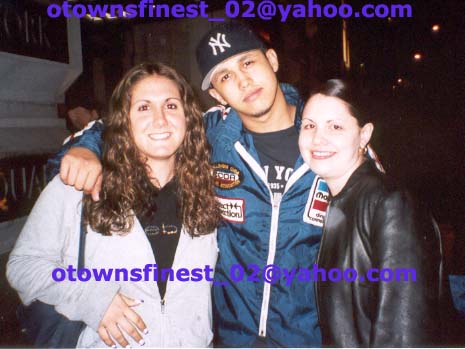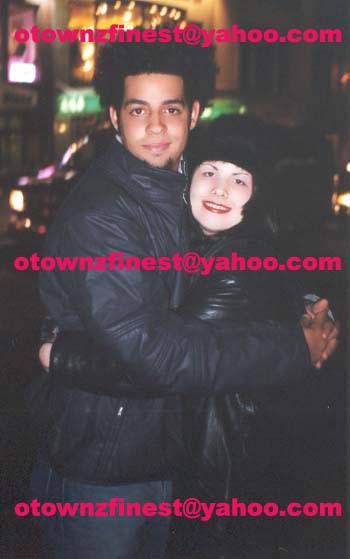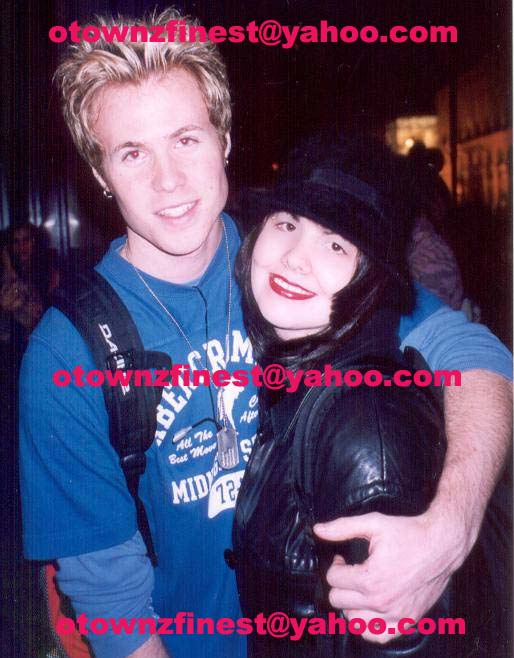 Hear all the JUICY details from people JUST LIKE YOU who've met the guys!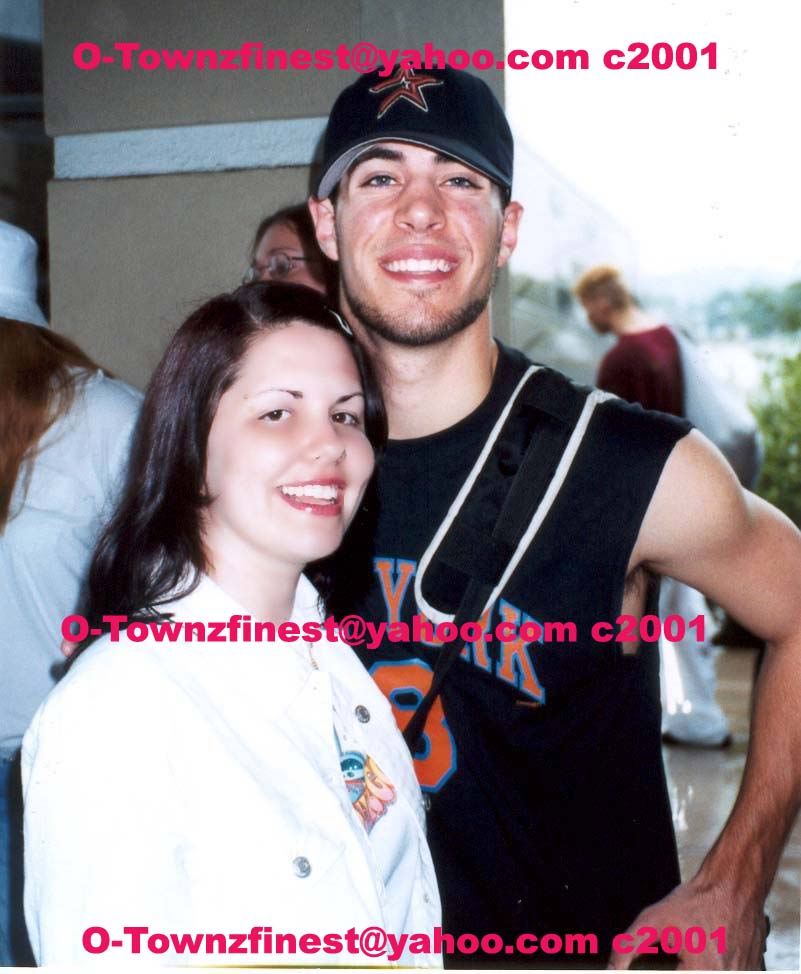 Here's the place where YOU, the fans get to share your experiences with the rest of the O-Town family... And for those of you who are dying to meet the guys, HERE is where you can find out the SCOOP on how others have met them and what it was like!!! (And MAYBE, just MAYBE you'll get some tips on how to meet them TOO!)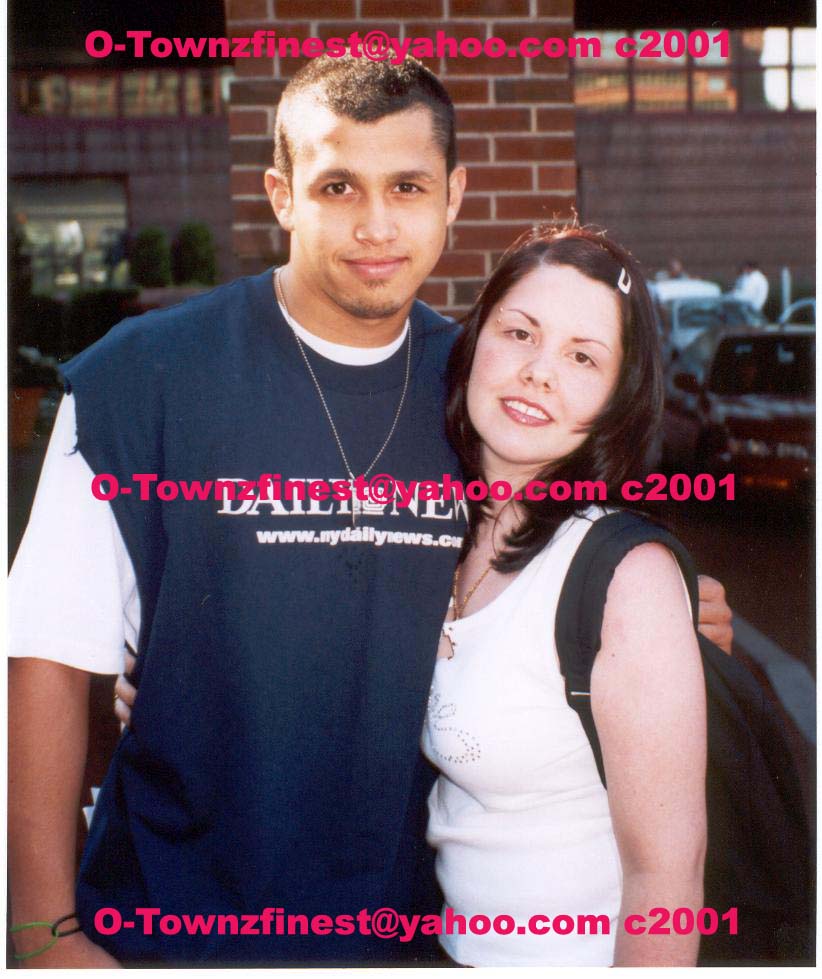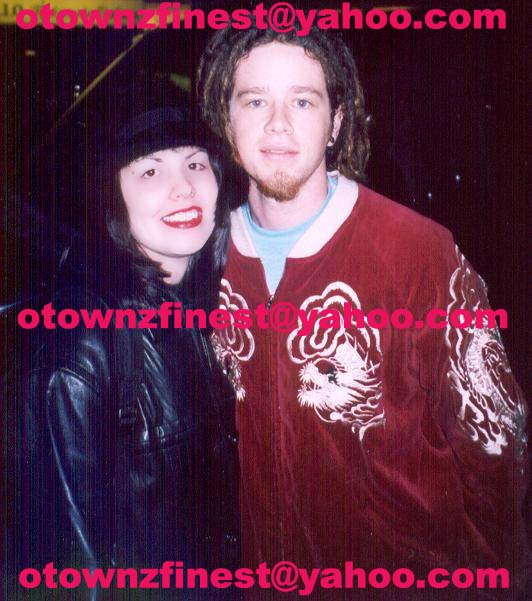 My 8th Encounter:
11/6/02- O2 Listening Party at The Hard Rock Cafe, NYC... O.K., where do I begin? We got there at around 1:30 pm and got in line behind about 15-20 girls who had already been there for awhile...waited in line until about 6 pm or so. That's when they started collecting all of the video tapes for the "O-TOWN ROCKS" Talent Contest... now HERE'S where the plot thickens... earlier that day my friend Sharon convinced me to make a video tape to submit <--(I sing) because she was making one. I REALLY DIDN'T WANT TO, but after a bit of coaxing, I made one too--(it was like 12:30pm by the time I finally made it). Now, back to the story... so as they are collecting the tapes I start to change my mind about submitting mine (Sharon had already submitted hers)...and I began thinking, "What if they really pick my tape??? I'm gonna have to get up on stage and sing for O-Town..." That alone was enough to shake me up a bit (lol). But of course at that point Sharon was not havin' it-- her tape was already in the box, so as far as she was concerned, mine needed to be in there too! So, there went my tape... into the box!!! They finally let us inside and there were already some people inside, so I only got up to the 3rd row :o( But, it was all good 'cause what happens next made up for it... Dan came out first, then Trevor, Erik, Ashley and Jacob. Each one of them introduced a song (none of which ANYONE could hear with all the screaming! lol) and then they showed us the "TATD" video. O.K., are you guys sitting down??? Here's where it gets juicy... the last thing on the agenda was the "O-Town Rocks" Talent Contest where 5 people who submitted video tapes earlier that evening would be picked AT RANDOM to come up and perform live for O-TOWN. As they handed the box to Dan, who would be picking the first tape, all I kept saying was, "Please don't pick me... Please don't pick me" (LOL). Hey, can ya blame me??? I started getting a little nervous, that's all :o) ...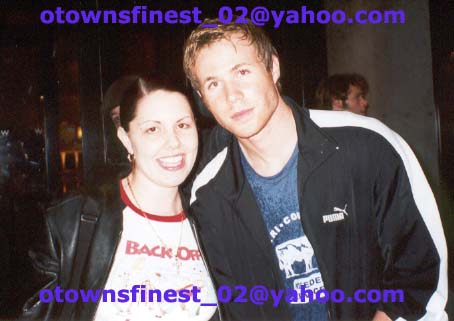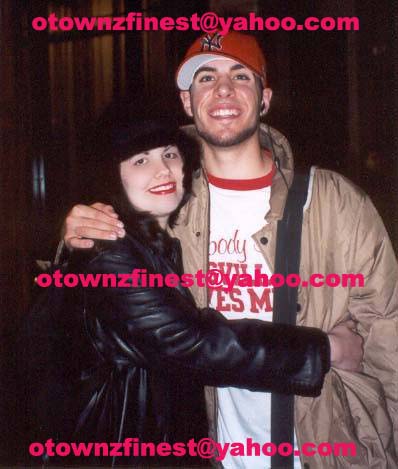 Do you wanna know what it's like to be face to face with Ashley? Have you touched Jacob's dreads? Is Dan the sweetest guy you've EVER met? Are you dreaming of the day you meet Erik-Michael? Or have you gotten a HUG from Trevor?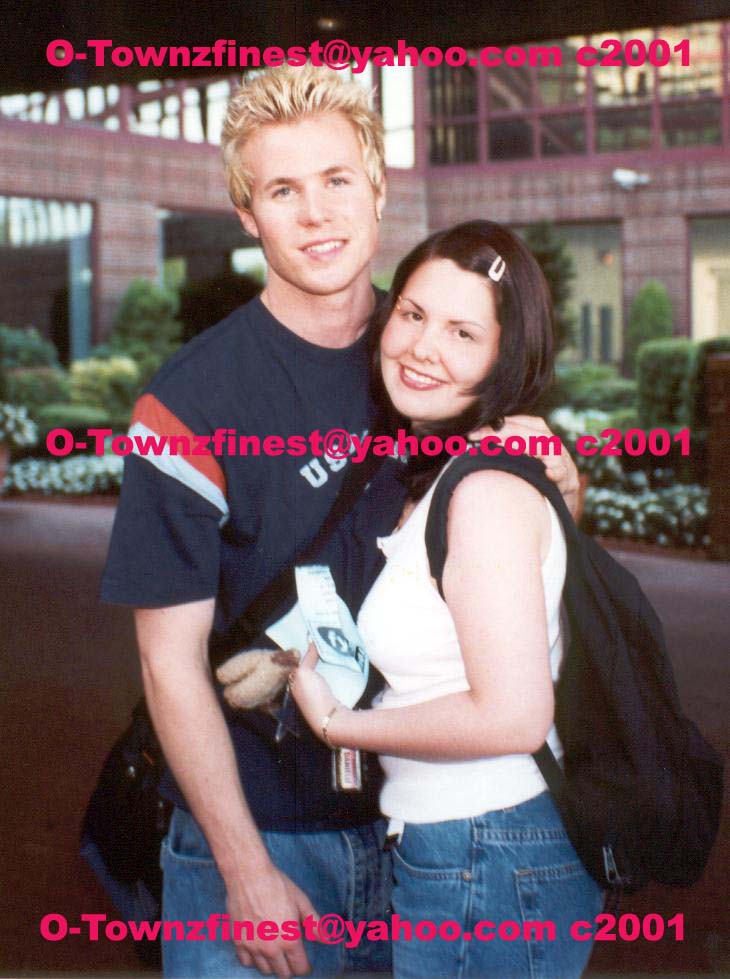 Do YOU have a STORY to tell??? Send it to me and I will post it HERE! Do YOU have a PIC with one of the guys??? Send them TOO! Share the love...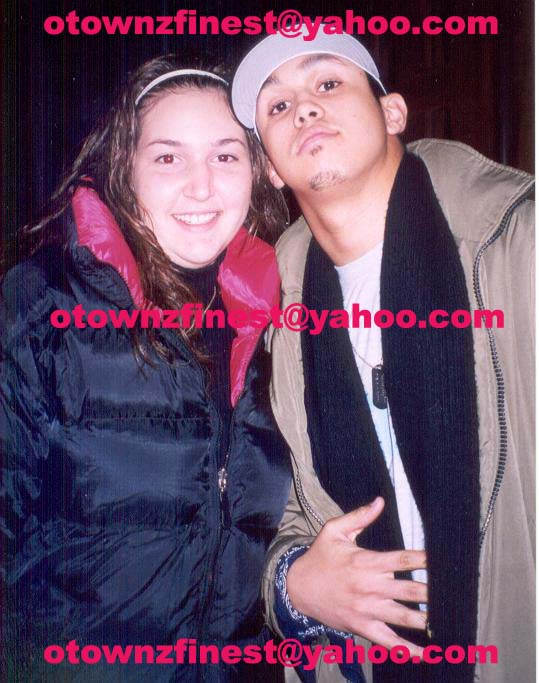 Heather & Erik ("Da PIMP")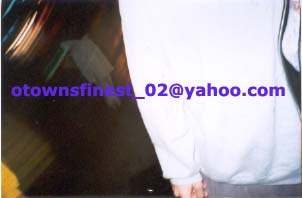 Ashley's attempt at photography (LMAO)!!!




So Dan reaches in the box... and my friend's are like, "D... Dan has your tape, Dan has your tape" and I was like "SHUT UP! Don't say that..." And before I could say another word... I HEARD MY NAME COME OUT OF DANNY'S MOUTH!!! OMG!!! It's crazy enough to have been picked, but to have your favorite member pick you out of all those tapes! What are the chances??? Trevor called the next name and by that time I was already assuming my position on stage. Then I heard Erik call my friend Sharon's name!!! And I couldn't believe it! There we were getting ready to sing for O-TOWN :o) I sang first and remarkably, I wasn't really nervous at all. All I remember is looking them all in the eyes and asking them if they were ready... and I just sang!!! My friends in the audience said that the guys seemed really surprised to hear that I could sing like that (lol). Danny shook my hand when I was leaving the stage (awww). Sharon sang next and she did her thing! And then the other three contestants had their moments to shine. Then the guys went into a huddle on the stage and decided on a winner... I was getting nervous again, as Trevor took his sweet time announcing who they had chosen and then finally... the moment of truth... TREVOR CALLED MY NAME!!!OMG!!! Can you guys believe it? What a GREAT night :o) I couldn't believe that after all the hestitation about entering the contest, that they actually picked me!!! I was so shocked :o) I went back up on stage and I got hugs from all the guys (YAY! Danny :o) I actually went past Erik to hug Ashley, because Erik was talking to the crowd--- and after I hugged Ashley, Erik was standing RIGHT next to me and he said, "Now I KNOW you ain't skipping me!" and he gave me a BIG hug and a kiss on the side of my head (awwww). That was probably the biggest shock of the evening-- oh wait... and the fact that I got a hug from Jacob too!!! (lol) They were all in such great moods. I was glad to have been a part of that night :o) It was such a great feeling to hear such kind words from all of the guys and know that they liked my performance enough to have chosen me. Things will definitely be different from here on out and I have the guys to thank for that... and Sharon--who convinced me to make the tape! I would just like to thank everyone who came up to me that night and since that night, for their kind and encouraging words! It means a lot to me :o) Thanks to Liz for the video tape of that night... I watched it and it finally began to seem real! I thought or sure that I was gonna wake up from it all (lol)... Anyway, I hope that was as exciting for you to read, as it was for me to experience :o) Until next time, my friends... peace... ~D~
My O-Town Encounters:

Yes, it's TRUE... I have had the opportunity to meet the guys several times (I've been very lucky). Those are just some of the pics that we've taken together (the cutest ones :oP lol). So, let's see... I guess I'll start at the beginning:

My 1st Encounter:

8/25/01- Arthur Ashe Kids Day: My friend Heather and I met them at a hotel near the event. My favorite memories: Coming back from the lil' girls' room and seeing Trevor in the van parked outside ("Heather, Trevor. Trevor,Trevor. Heather, Trevor..." =:O (LMAO); meeting Dan (he was sweet even though he wasn't feeling well); Jacob- he was the COOLEST that day. He was so talkative and even searched EVERYWHERE for a pen so that he could take down my info for meet & greets for an upcoming show!; Ashley being surrounded by these girls that were saying stuff like, "Ashley, why haven't you called me???" (LMAO) and squeezing his cheeks. He had this ILL look on his face and he looked over at us like, "SOMEONE PLEASE SAVE ME!!!". So we saved him :o); Erik remembering us from the Arthur Ashe event. He was like, "I remember you guys. You were over in the front on the left-hand side" (you know Heather was happy!); LAST BUT NOT LEAST... Trevor got off his cell phone and got outta the van and was like, "You KNOW I had to come out here, right?" and I was like "Oooh LAWD! YOU ARE SO FIRM!!!" as I squeezed his side while we took our pic.(LMAO) He was ticklish! (sorry, Trevor) <---no I'm not...LOL

My 2nd Encounter:

8/25/01- Maxwell/Alicia Keys Concert, NY, NY: YEP!!! TWICE IN ONE DAY!!! This one was TOTALLY by accident. I was taking my mom to see Maxwell (he's one of my favorites) and we're riding the escalator up and she hits me and starts yelling, "OMG! IT'S THEM! IT'S THEM!". I looked up and saw Jacob smiling at me (he had to remember me, I had only met him like 3 hours earlier!) We went inside and I walked up to Trevor and was like, "Excuse me sir, are YOU following ME now???". He was like, "What's UP???" and then I introduced him to my mom, who absolutely adores him. He stood up, turned around and shook her hand. I spent pretty much all of my time after that talking to Dan :o)

My 3rd Encounter:

9/19/01- Electric Factory, Philly, PA: My friend Sharon and I drove to Philly after the 2 concerts we were supposed to go to got canceled (9/11 & 9/18). I got a meet & greet pass from this girl we met and I went inside. I asked Dan if he liked Alicia Keys that night at the Maxwell concert and he was like, "She was off the hook! Wasn't she?". To which I replied, "You do know what I'm talkin' about, don't you?" and he was like, "YEAH! The CONCERT. I REMEMBER!" :o) (Yay! GO DAN!) Erik seemed to remember me too, 'cause he was like, "It's so nice to see you again" :o) (he took his happy pill that day! LOL) And I promised my friend she'd meet Jacob if it was the last thing I did...

My 4th Encounter:

9/20/01- The Hotel, Scranton, PA: Like I said, I promised Sharon she'd meet Jacob if it was the last thing I did... So, after the show in Philly, we drove to Scranton, PA where they were having a show the next day. So we stayed in Scranton that night and waited for the guys. We saw Ashley first in the hotel lobby. A few hours later they all came out and my friend got to meet Jacob. At this point, Dan knew me, he was like, "What up, girl?" (Awww). Ashley went past everyone and got right on the bus. Then as the bus was pulling out, he made the driver stop and he got off and signed stuff for some of the people that were waiting out in the rain. That was cool of him. I was really happy cause my mission was complete, Sharon met Jacob :o)

My 5th Encounter:

10/10/01- The Hotel, NY, NY: My friends and I went by the hotel after the show at The Hammerstein Ballroom (they taped the DVD that day) and Dan and I talked about him hearing my some of my songs (I sing too). He wanted me to give him the CD I had with me, but it was my only copy :o( So, I told him the next time I see him I'd bring a copy for him. I haven't seen him yet, but I'll keep you posted! :o)

My 6th Encounter:

12/13/01- New York City: Overall this was a strange day, so I'll just give you the highlights...Ashley- wishing he had tickets to the show for all of us, hugging me out of nowhere (lol), Sharon- "Ashley doesn't like me..." Ashley-"Awwww... YES I DO!!!"- She's always makin' that boy feel guilty (lmao); Jacob- pictures speak a thousand words (lol); Erik- the pimp face he made in Heather's pic ("Oh Snap, look at the PIMP! LMAO, Erik); Dan- huggin' that skinny body (lol), the 2 minutes that Dan teased Sharon while she figured out how to snap our pic ("Press the button, baby...You almost got it...Hold the button down, girl..." LMAO), how patient he was (lol); Trevor- singing down the street, grabbing my hand, offering to take pics before we asked, huggin' me X-tra tight this time (thanks to Sharon- YOU KNOW WHY (lol), blowin' us kisses :o) (Trevor was by far the SWEETEST of all the guys this time...sorry, Danny, you know we love you :o)

My 7th Encounter:

10/11/02- Hotel in NYC: A very rainy day-- to say the least, but we knew that the boys would be leaving the next day so we figured we'd see if they were around. And of course... they were :o) I got there after work and Heather and some other friends had already had their encounter with Trevor, Dan and Ashley. Jacob and Erik weren't around. When I drove up and got out of the car and finished saying "Hello" to everybody, Danny walked out...then Trevor and Ashley. Now on to the fun part--the most memorable moments of the evening... Dan: "Get out the rain y'all" (lol); standing next to me to get outta the rain and me finally noticing he was there--Dan to me--"What up, baby?" (awww...what a cutie). Ashley: snatching the camera out of Heather's hand-- "OOOH!!! I'LL TAKE IT!!!"<-- attempting to take a pic of me and Dan... unsuccessfully (LMAO); "Look at you guys, wet from the rain--lookin' all cute" (awww, he's so adorable); "Ashley, you took a picture of me & Dan's feet--but that's O.K." (lmao). Trevor: grabbing my hand and rubbing it (hee hee); telling me he had a "date with Dan"--me responding, "Oooh!!! Can I come???(lol--Heather)... Hey, you can't blame a girl for trying, right? ;oP. Oh yeah... I almost forgot, we saw Erik too. He walked right past us into the store and no one noticed until he was already inside. Of course Heather noticed first :o) Erik: answering his cell phone-- "Excuse me ladies... Hello?... Can I call you back?... Because...I'm taking pictures"; I must say he was in an especially friendly mood (ie: me & Kourtney's pic with him... awww). Hey Heather... "Booty, booty, booty" (lmao) and "Dan.. Can she take another picture with you? Ashley RUINED the other one" (HAHAHA). It was a nice night even though my pictures with Dan and Trevor aren't worth showing to anyone---EVER (lol). Oh well, it just gives me a reason to go see them again in November :o)YAY!!! F.R.O.G.'s 4 Life!!! Peace, peoples :o)

Jackie's O-Town Encounter: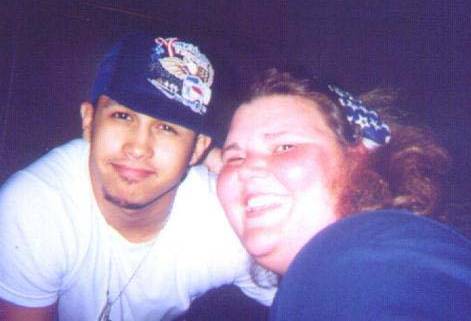 Atlantic City May 26,2002 at 5:30pm. We lined up to go inside. I was in the middle of the line, nervous and not knowing what to expect. As the line started to move I could see the table and the guys sitting behind it, laughing and smiling. My nerves twisted in a knot, but I remained together, so to speak. While in line, I met a girl with her father. They were really sweet, he said If i had Dan sign his dollar bill he would take pics for me. So I said sure! The First person I met was Dan. He shook my hand, smiled asked me my name and when I asked him to sign the dollar he asked me if I was sure, I said it isn't mine so yea! He laughed and said, "You know I signed a hundred dollar bill earlier today?". I was like, "Really?". What I wanted to say was, "Hell No that's Rent!" but, "Really" came out instead. Ashley was next. He shook my hand and asked me how I was doing, I said, "I am good, how about yourself?". Then I asked for a hug. He said, "Sure" he got up from the table reached over and gave me a hug, as he hugged me he said in my ear, "Thanks for coming". By this point I was red in the face. Why? Hell if I know, but I was. Carrying on... Erik-Michael! This man is beautiful up close. He shook my hand as well asked me my name and stood up to give me a hug. As we were hugging, the girl' s father was snapping pics for me, Erik said, "Would u like a pic?". I said, "Sure"so we turned around and he snapped the pic. He said, "I hope it comes out and I will talk to you later". Jacob was next. Again with the hand shake. I had brought him a red bandana. I still havent figured out why I did it but I did, I handed it to him and his face lit up, I was so happy, He said , "How did u know I needed another one of these?". I said, "I didnt". He went on to tell me how he misplaced the other red one he had and this would come in handy! I finally get to Trevor. My best friend had worked real hard on a journal for him and wanted me to give it to him. He shook my hand as well and said, "It is nice to meet you, Jackie". I was impressed that he knew my name, but I guess he would considering he had to hear it 4 times. LOL. I handed him the journal, he asked what it was, I explained it to him and Jacob leaned over and said "That is really cool!". Trevor stood up and gave me a hug and thanked me as well for coming out! As I walked away from that meeting, my heart had taken with me a piece of them which to this day I will never forget. The concert was great! The best part was when they came out and the first thing I noticed was that Jacob had been wearing the bandana I gave him less than a few hours earlier! These guys are the 5 sweetest and most caring men in the world and will always have my love and respect! I hope to meet them again so I can tell them just that!

Heather's O-Town Encounter:

On February 19th me and my friends Raychel and Kourtney headed into the city around 6am. We went to the NBA store where O-TOWN was doing a in-store performance and cd signing. When we got there about 100 people already had formed a line. We still had hopes on getting in. If we couldn't get into the signing, we were just gonna stick around for the performance. We waited until 10am when they started giving out the bracelets to get into the meet and greet, we didnt get one. We were really bummed, but we were still excited about the show. We were in front of the line so that meant we would have an awesome spot for the show. Around 5:00pm they let us in, the show started at 5:30pm but of course, O-TOWN was late (lol) and they didnt come on until 6:00pm. The show was tight, they sounded soooo good. The show was over around 7pm and we went to the bathroom to get fixed up to try and get into the meet and greet. We kept getting on the end of the line to let all the people with passes go ahead of us. We had the video camera and all the guys kept waving at it. Then we got yelled at by some guy and we walked away and then came back 5 minutes later everyone was done with the signing. We went over to the lady who was in charge, I made her feel really bad for us and she let us in. We walked down and this other lady was like "Can I see your tickets?", and we didnt have any so she was giving us this big problem. Dan reached out his hand and grabbed my friend Kourntey and once she went in, we all went in. We met all of the guys and spent like 15 minutes down there and got hugs from all of the them. It was one of the best encounters I had with them!

Heather

Thomasina's O-Town Encounter:

I met O-Town on Janurary 23rd and the guys were super nice. It was for the release of the greatest cd of all time, O-Town. I met them at a signing for the cd at Coconuts. It was really cold that day. I got there on the line by 8:00am and it was already packed. I thought I wouldnt get in. By the time it hit 3:00pm, the lady from the store came out and gave everyone yellow bracelets, I got one also. I was in cause I had my pass from when I bought the cd. It was 5:00pm and the van from Z100 was there and so was a lady from 17.com and she told anyone who had O-Town signs they could get their picks taken and I had one, so I got to have my photo put on the site. It was 5:30pm and the line started to move and I got into the store. I was so happy the songs from the cd were playing at the store just to keep the mood right. As I was on the line waiting something great happened. The same lady from seventeen magazine who took my photo before came over to me and tapped me on my shoulder and told me that being I got a gift for Jacob, my favorite O-Town boy, when I hand him the gift I can get to take a photo with him. It was my turn and all the guys were super sweet to me and it was unreal. When it came time for me to go over to Jacob and give him my gift bag I was shaking and I couldnt breathe cause I was so close to someone that I cared about and looked up to was like wow. I got to finally get to Jacob and I was like this is great. I gave him my gift and then I got to take the photo with him. He put his arm around me and he was so close to me it was unreal. The photo was on the seventeen.com site and it was for the prom section JC Penny Rocks Your Prom and I was so happy when I saw it, I just cried. I want to say thanks to O-Town for being so sweet and Jacob thanks a lot for being you, dont change.

LOVE ALWAYS

THOMASINA

============================================================ Script: Basic No-Right-Click Script Functions: Blocks right-click on mouse and shows alert box Browsers: NS & IE 4.0 & later; degrades gracefully Author: etLux ============================================================ Put the following script in the head of your page: ============================================================