This page is ALL ABOUT YOU...


Let me know what you think about this site... If you have any questions or comments go to CONTACT ME and holla back!


I will post your messages and answer any questions you may have here...
11/23/02:
I just thought I'd post here to respond to anyone who has e-mailed me and asked if I could tell them what hotel the guys stay at in NY... Please do not be upset if I do not respond to those e-mails, it's just that I do not feel it is my place to be giving out info like that. Anyone who has ever been to a hotel they stay at KNOWS what it's like-- often times, it's a MAD HOUSE and to divulge such information would be unfair to the guys and to everyone else who did crazy amounts of research (for real-- these girls do LOTS of research to find the guys!!!). Honestly, after this last experience a couple of weeks ago... I wouldn't be surprised if they didn't even stay at that spot again. A level of respect should be maintained when approaching the guys and it seems as though some fans don't have any respect for them and can often times ruin it for those of us who do. So once again, PLEASE understand why I cannot and will not be giving out such information. Thanks everyone :o)
This Month's O-Town's Finest:
I must say that Daniel Mark Miller is by far my favorite member of O-Town. He is so talented and sweet with a touch of shyness that makes him even more lovable :o) He has this way about him that makes you so comfortable to be around him and he is always so gracious to his fans. He does not seem to be impressed or phased by the industry hype and has managed to stay extremely down-to-earth. Those are just a few reasons why Dan is this month's pick for O-TOWN'S FINEST. Congratulations, Danny!!! :o)





Check out this recent pic of Jacob with a FULL BEARD!!! What do you guys think???
Speak your mind !!! Contact Me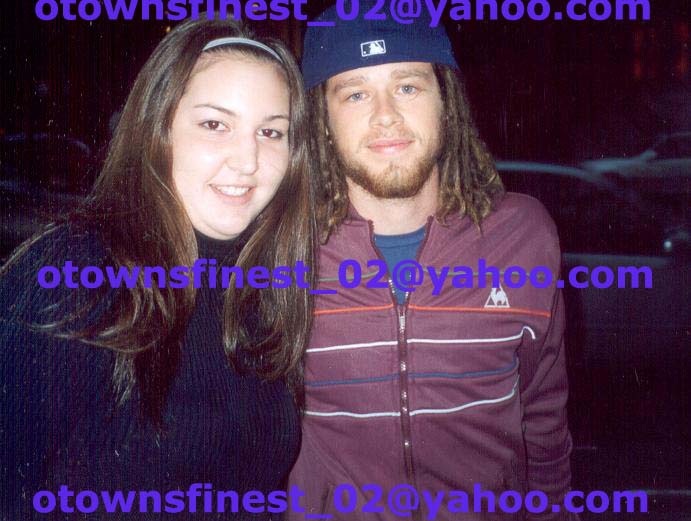 Radio DJ Reviews From Hitmakers site:

O-TOWN "These Are The Days" (J RECORDS):

DANNY OCEAN, PD, KC101, New Haven
"Sounds good."

ANNETTE WADE, PD, KFXN, New Orleans
"The song is as good as they are cute!"

MOE ROCK, MD, KGOT, Anchorage
"I LOVE this song. It sounds like early Bon Jovi. Wow!"

SCOTTY VALENTINE, PD, KKMG, Colorado Springs
"A great record that will take them to the next level!"

ROB RYAN, MD, KKRZ, Portland
"A good balance record."

TOMMY AUSTIN, PD, KQKQ, Omaha
"I was pleasantly surprised!"

DONNIE MICHAELS, PD, WFLY, Albany
"#1 phones at night!"

RICK VAUGHN, PD, WKSS, Hartford
"Top 10 phones!"

BRIAN STOLL, MD, WLVY, Elmira
"A nice new direction!"

STEVE SMITH, PD, WMGI, Terre Haute
"I'm getting a good vibe from this song!"

SHAWN MURPHY, APD/MD, WQGN, New London
"Their music is maturing."

STEW SCHANTZ, OM/PD, WSKS, Utica-Rome
"Good early phones!"

SKY WALKER, APD, WSPK, Poughkeepsie
"This shows their growth. Great song!"

LACY NEFF, Dir./Prog., WVAQ, Morgantown
"Great song for them!"

SCOTT FREE, PD, WWCK, Flint
"It will start at night and should do well."

JERI BANTA, PD, WYKS, Gainesville
"Even if we weren't so close to Orlando we'd still play this!"

MIKE FORTE, APD/MD, WYKS, Gainesville
"Sounds like a hot record and it sounds like they're evolving!"

PETE DeGRAAFF, APD/MD, XL106.7, Orlando
"Light phones... it's good... hope it doesn't get lost."

CHRIS MARINO, APD, Y100, Miami
"This will be a strong record for us."

AXL, AMD, Z100, New York
"Already generating phone action!"